It's NAIDOC Week.
This year's theme "Voice. Treaty. Truth." speaks to the need for Indigenous Australians to have an enhanced role in the nation's decision-making.
For generations, Aboriginal and Torres Strait Islander peoples have looked for significant and lasting change.
Voice. Treaty. Truth. were three key elements to the reforms set out in the Uluru Statement from the Heart.
The reforms specifically call for a First Nations Voice to Parliament enshrined in the Constitution, and a commission (Makarrata Commission) to supervise treaty processes and truth-telling.
In the European settlement of Australia, there were no treaties, no formal settlements, no compacts. Aboriginal and Torres Strait Islander people therefore did not cede sovereignty to their land, a matter that will remain a continuing source of dispute.
A substantive treaty has always been the primary aspiration of the Aboriginal and Torres Strait Islander movement.
Our Team Meeting on 8th July at the start of NAIDOC week provided the forum for CTC staff to discuss the issues facing first Australians.
It provoked a discussion about what we are doing as an organisation to aid healing so that all Australians can move forward together for a shared future.
Some examples of our commitment to reconciliation include: –
The Queensland Government's reconciliation statement is on display at the front entrance to our Ian Barclay Building.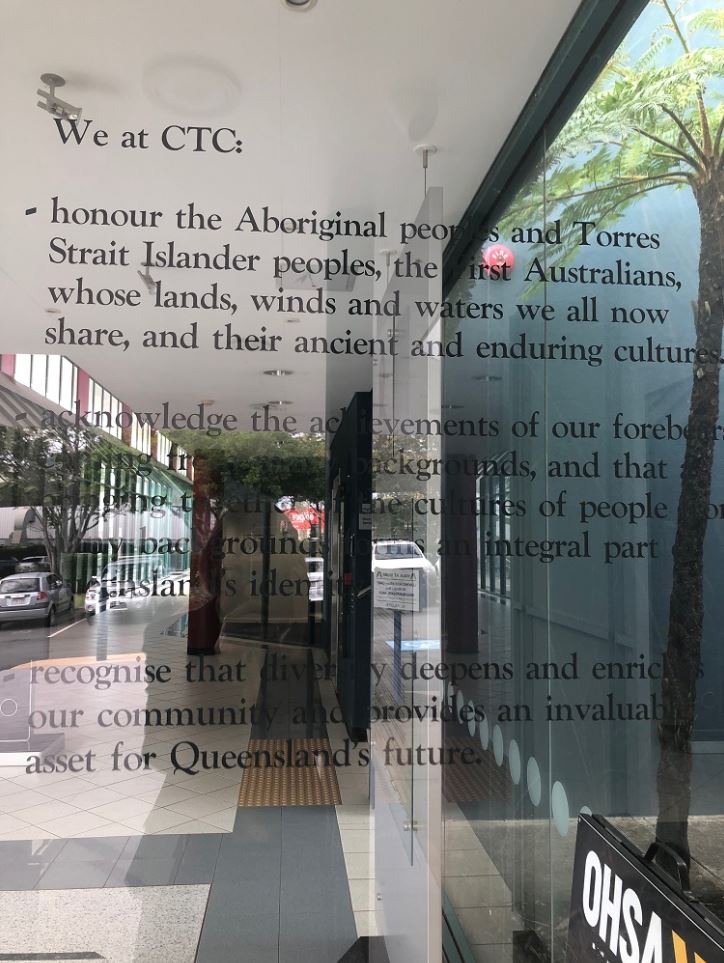 We have formally pledged our support for the "Racism. It stops with me" campaign and will play our part in reducing cultural barriers and increasing acceptance of difference.
A didgeridoo crafted by Richard J Saunders of the Whuthuthi Tribe of Shelbourne Bay is proudly on display in our reception area. Aboriginal art helps communicate stories, spirituality and relationship to the land. This piece is a fine example of the artist's connection with food sources from his region.
To find out more about CTC's commitment to diversity, click the link to read about our Racism. It Stops with Me initiative.